Your parasol canopy has been treated with a protective coating, but gradually over time through day to day usage and exposure to external conditions, your canopy may begin to look dirty.
To ensure that your parasol canopy remains looking fresh for longer, we highly recommend that you have it cleaned every so often.
As part of the cleaning service we re-waterproof the fabric, which is absolutely essential for maintaining the umbrellas effectiveness.
The amount of time between cleaning will largely depend on the colour of the canopy and the amount of use, as well eternal factors such as pollution, bird mess, and tree sap.
For more details on our parasol canopy cleaning service, please contact us here.
Clients with sheltered positions often leave their umbrella closed vertical on the usual base with winter storage bag applied.
However, those clients with out-buildings / large garages may lay their umbrella down in the winter.
Clients with coastal sites, or other above average exposure to wind, should either over-winter their umbrella in a garage or out-buildings OR seek our guidance with a view to installing an additional base 'around the side of the house' - where it is also likely to be out of view.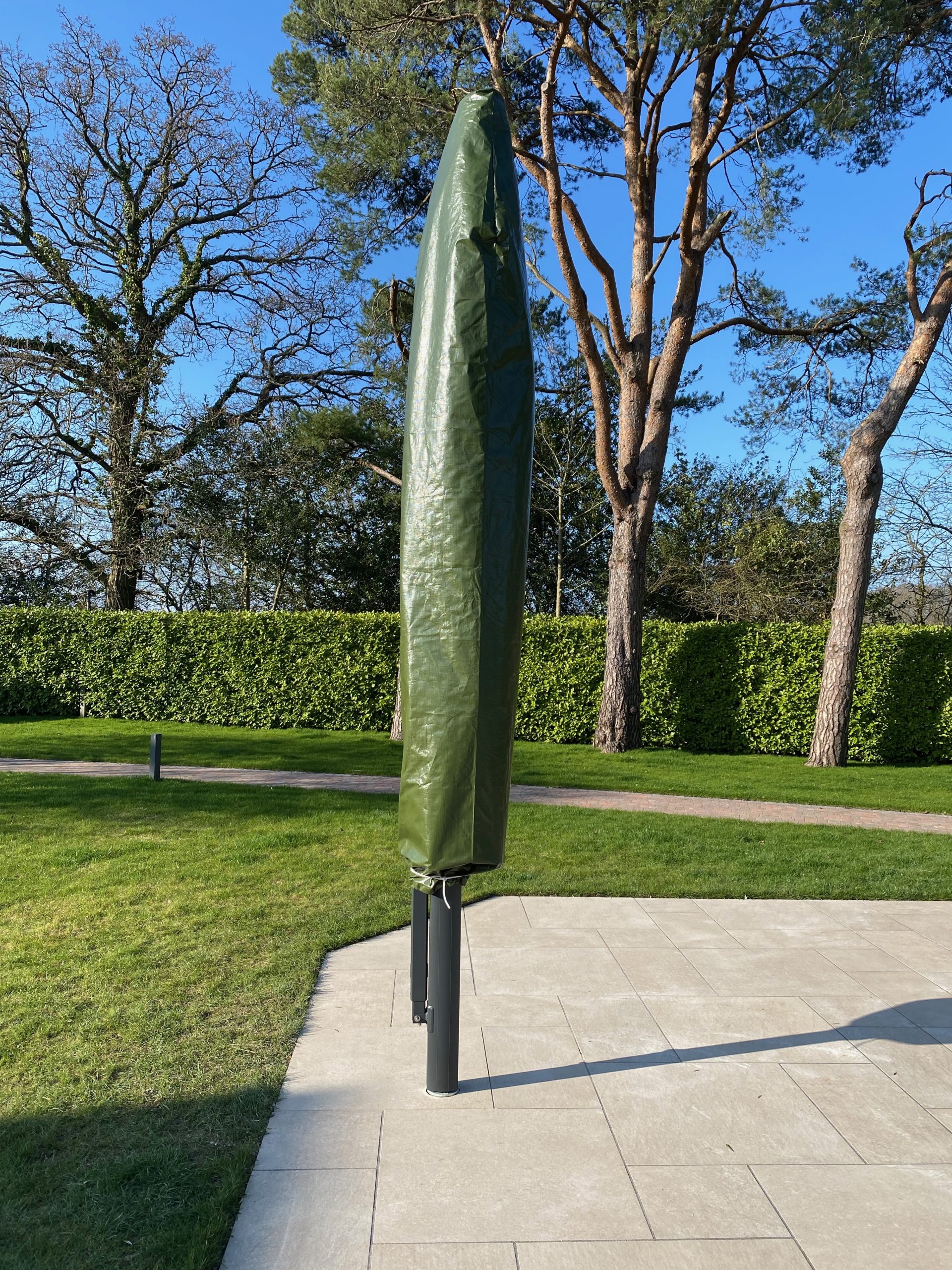 Repairing Minor
Canopy Damage
We understand that parasol canopies can be damaged by external forces which are completely out of your hands – and we will do our best to help you put it right.
A stray firework; a cigarette end from an upstairs window; mildew (from putting winter storage bag on while parasol canopy is still damp) or just an accidental nip. These are all causes that we have encountered over the last 20 years.
MAJOR TEARS and BURNS - We seldom have clients needing this service, but we can organise repairs, with original material, through our UK sail-maker repair partners.
MINOR REPAIRS - We find Tear Aid – (Type A) is an excellent product for small holes up to the size of a £1 coin and is widely available on E-Bay or Amazon. However, Poggesi UK will supply you with a small piece of repair fabric and Tear Aid - along with guidance on how to make this simple patch repair. This is a free service to our UK clients.
All of our canopies are hand sewn and produced using 300gsm acrylic – this is the industry standard for commercial grade umbrellas.
There may come a time when you wish to replace your canopy completely. Whether this is due to damage, or you'd simply like a change of colour, we can help.
New canopies can be supplied and fitted by contacting Poggesi UK or one of our sales partners who may have supplied your umbrella.
New canopies cost typically 30% of the price of a complete umbrella. This cost includes fitting (subject to site location). For more information on canopy prices, please contact us here.
If you plan to fit your own canopy – we will supply a step by step guidance sheet. The cost will typically be roughly 25% of the cost of a complete umbrella.
Our full range of canopy colours can be viewed on our 'colour gallery' here.